OneOklahoma Cyberinfrastructure Initiative (OneOCII)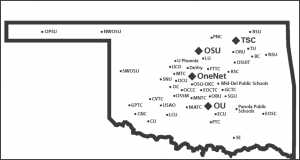 The OneOklahoma Cyberinfrastructure Initiative (OneOCII, pronounced "One Okie") is a statewide all-inclusive advanced digital services collaboration that has been providing access to Cyberinfrastructure (CI) resources, as well as expertise and education, so far to over 100 institutions and organizations statewide (over 50 academic and almost 50 non-academic), including PhD-granting universities (including 10 Minority Serving Institutions), primarily undergraduate institutions, community colleges, career technical schools and high schools.
OneOCII, originally named OCII, began with Oklahoma's 2008 National Science Foundation (NSF) EPSCoR Research Infrastructure Improvement (RII) Track-1 project, as a Memorandum of Understanding (MOU) between the University of Oklahoma (OU) and Oklahoma State University (OSU) to share their CI resources not only with each other but to all non-commercial researchers and educators across the state. Prior to this, the state of Oklahoma had limited CI resources, primarily at OU and just emerging at OSU. As of September 2015, Oklahoma has over 200 TFLOPs offered by five institutions, including OU, OSU, the Oklahoma Innovation Institute (OII, a nonprofit in Tulsa), Langston University (Oklahoma's only Historically Black College/University) and the University of Central Oklahoma (UCO), a primarily undergraduate institution, as well as an emerging multi-institutional Science DMZ known as the OneOklahoma Friction Free Network (OFFN), with substantial resource upgrades anticipated at OU and OSU by 2016. All of the OneOCII server provider institutions communicate consistently via weekly conference calls, an email list, and an all hands meeting at the annual Oklahoma Supercomputing Symposium, the oldest CI conference held annually in an EPSCoR jurisdiction.
OneOCII participants have weekly teleconferences, please contact us if you're interested in joining the email list and participating in the calls.
 News & Updates