About OneOCII
OneOCII is a statewide advanced digital services collaboration led by Oklahoma higher education institutions.
REACH institutions outside the mainstream of advanced computing.
SERVE every higher education institution in Oklahoma that has relevant curricula.
ATTRACT underrepresented populations and institution types into advanced computing.
EDUCATE Oklahomans about advanced computing.
ONEOCII
OneOklahoma Cyberinfrastructure Initiative
The OneOklahoma Cyberinfrastructure Initiative (OneOCII, pronounced "One Okie") is a statewide all-inclusive advanced digital services collaboration that has been providing access to Cyberinfrastructure (CI) resources, as well as expertise and education, so far to over 100 institutions and organizations statewide (over 50 academic and almost 50 non-academic), including PhD-granting universities, primarily undergraduate institutions, community colleges, career techs and high schools, among them 10 Minority Serving Institutions (MSIs).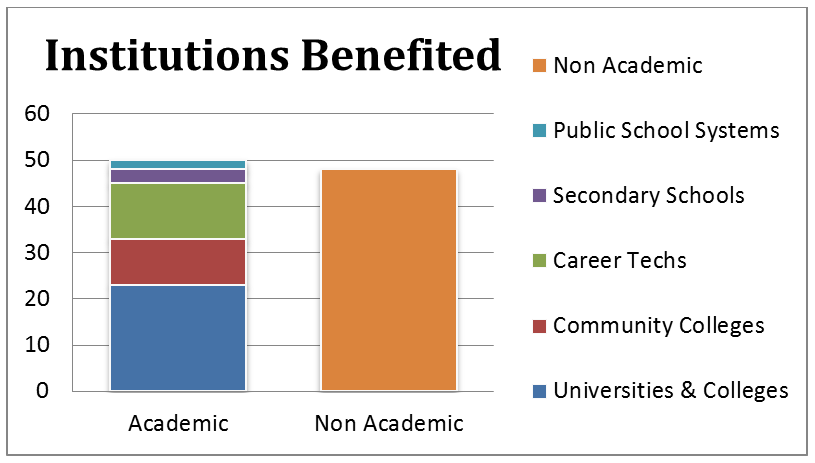 Sharing CI Resources with Researchers and Educators Across the State since 2008
OneOCII, originally named OCII, began with Oklahoma's 2008 National Science Foundation (NSF) EPSCoR Research Infrastructure Improvement (RII) Track-1 project, as a Memorandum of Understanding (MOU) between the University of Oklahoma (OU) and Oklahoma State University (OSU) to share their CI resources not only with each other but to all non-commercial researchers and educators across the state.
Prior to this, the state of Oklahoma had limited CI resources, primarily at OU and just emerging at OSU. As of June 2022, Oklahoma has over 1 PFLOPs (1 quadrillion calculations per second) of research computing capacity, offered by six institutions, including OU, OSU Langston University (Oklahoma's only Historically Black College/University), the University of Central Oklahoma (UCO), Oral Roberts University and the University of Tulsa.
OneOCII also serves as the core of a multi-institutional high-speed research-only network (Science DMZ), known as the OneOklahoma Friction Free Network (OFFN), which serves (or is scheduled to serve soon) 22 campuses of 20 institutions across the state:
Cameron University
Cameron University - FISTA
College of the Muscogee Nation
East Central University
Langston University
Murray State College
Northeastern Oklahoma State University
Oklahoma Christian University
Oklahoma City University
Oral Roberts University
Oklahoma State University
Oklahoma State University Institute of Technology
Oklahoma State University - Oklahoma City
Redlands Community College
Rogers State University
Southeastern Oklahoma State University
Southwestern Oklahoma State University
University of Central Oklahoma
University of Oklahoma
University of Oklahoma Health Sciences Center
University of Science and Arts of Oklahoma
University of Tulsa
All of the OneOCII resource provider institutions communicate consistently via weekly conference calls, an email list, and an all hands meeting at the annual Oklahoma Supercomputing Symposium, the oldest CI conference held annually in an EPSCoR jurisdiction.
OneOklahoma Friction Free Network Map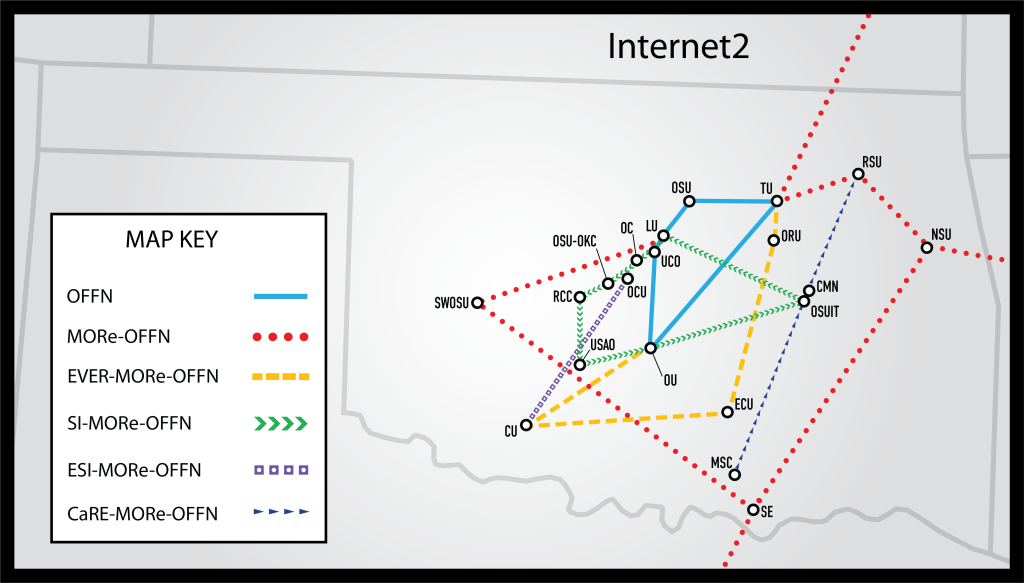 OneNet
OneNet is the comprehensive, digital communications entity of the Oklahoma State Regents for Higher Education. OneNet is a vital collaborator in operating the OneOklahoma Friction Free Network (OFFN)—Oklahoma's Science DMZ. OFFN has primarily been funded by the National Science Foundation. The foundation recently awarded OneNet and the State Regents three grants to expand the network. OneNet's collaboration with the higher education institutions provides cyberinfrastructure resources to institutions of all sizes across the state.
Visit OneNet →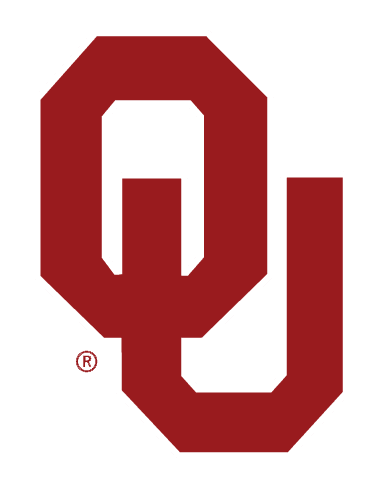 OSCER | University of Oklahoma
The OU Supercomputing Center for Education & Research, a division of OU Information Technology, helps undergraduates, grad students, faculty and staff to learn and use advanced computing in their science and engineering research and education.
Visit OSCER →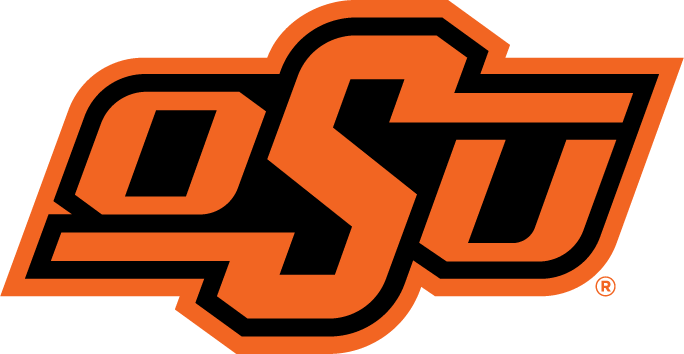 Oklahoma State University
The High Performance Computing Center (HPCC) provides supercomputing services and computational science expertise that enables faculty, staff, and students to conduct a wide range of focused research, development, and test activities. The HPCC places advanced technology in the hands of the academic population more quickly, less expensively, and with greater certainty of success.
Visit HPCC →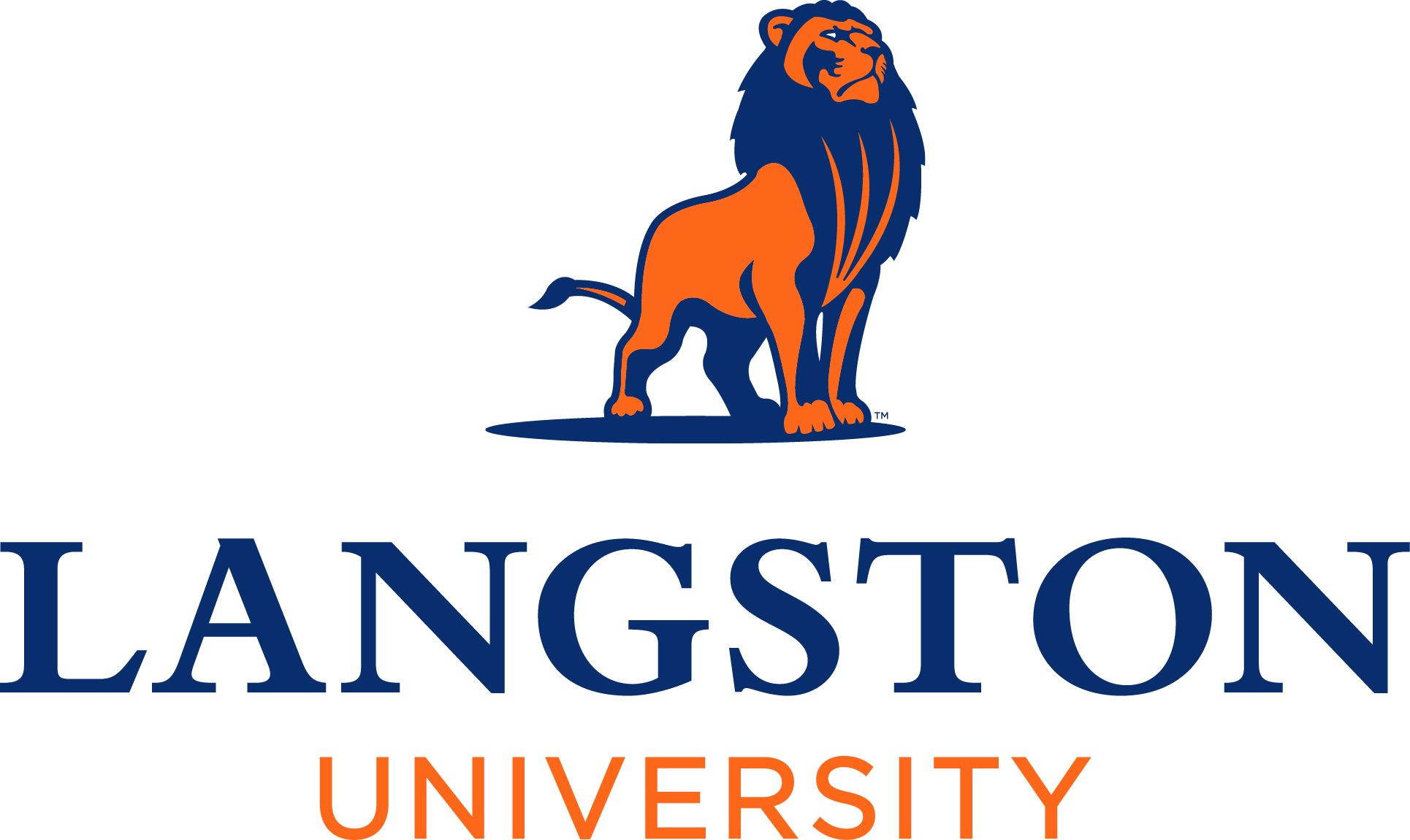 Langston University
The Langston University Computing Center for Research and Education (LU-CCRE) serves the needs of faculty and students who require advanced computing resources and services for research and development. LU-CCRE also provides instruction, training, and consulting in computational methodologies for students and faculty.
Visit Langston University →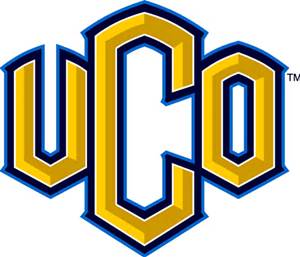 University of Central Oklahoma
The University of Central Oklahoma College of Mathematics and Science students, faculty and staff celebrated the addition of "Buddy," the university's supercomputer, to campus in 2015. The cluster supercomputer, named for UCO's mascot, arrived on campus just before the fall semester thanks to a three-year, $304,745 National Science Foundation research grant awarded to professor of engineering and physics Evan Lemley, Ph.D., and UCO's Center for Research and Education in Interdisciplinary Computation.
Visit University of Central Oklahoma →

University of Tulsa
The University of Tulsa is a private, independent, doctoral-degree-granting institution. The University of Tulsa began as Henry Kendall College in 1894 and has developed into a leading private research institution that embraces a liberal arts foundation while preparing students for a lifetime of success. The Tandy School of Computer Science hosts two heterogeneous clusters "Hammer" and "Furnace" blending diverse types of computing elements into a single platform to facilitate study of how best to integrate dissimilar computing platforms into a single workflow. Hammer was funded in 2015 from the Department of Defense's Defense University Research Instrumentation Program (DURIP) program, and Furnace was deployed in 2017 funded by a two-year grant from the National Science Foundation's Major Research Instrumentation Program (MRI) program.
Visit University of Tulsa →