Great Plains Network Collaborates with SC2, Aiming to Expand Use of Cumulonimbus Supercomputer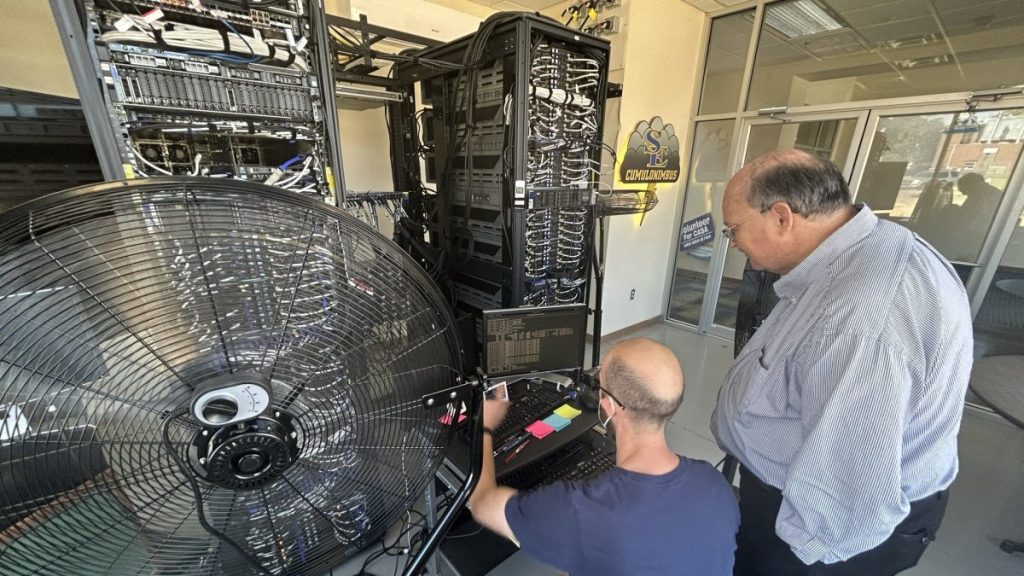 Mickey Slimp, executive director of the Great Plains Network, recently visited the campus of Southeastern Oklahoma State University to see the Southeastern Center for SuperComputing (SC2) and the supercomputer nicknamed Cumulonimbus, and discuss the expansion of their capabilities.
Dr. Karl Frinkle, professor of mathematics, along with retired computer sciences professor Mike Morris, leads the SC2 and the use of the Cumulonimbus, which is primarily used by students in computer sciences and mathematics courses.
Cumulonimbus has been online and active for about a year. At any given time, programs written by Southeastern faculty and students are running on the supercomputer, currently most work done on the cluster revolves around mathematical research on the Collatz Conjecture.
"This supercomputer has already been very beneficial to students and instructors in specific courses, but we're also starting to look at ways the powers of our supercomputer can help other courses of study at Southeastern," Frinkle said. "While our mathematics research has been great, we can help students and faculty in many practical applications that can translate into real world implementation and improve our students' skill-set for the job market after they graduate."
During his visit to the SC2, Slimp's eyes lit up as he and Frinkle discussed the current uses as well as the potential for expanded uses.
"The data maneuvers this supercomputer can accomplish is uncommon to have at a university of this size. The opportunities it can give students and faculty to do hard research in social sciences, physical science, business, and many more fields can help Southeastern and directly impact the economy of the Durant area," Slimp said. "Beyond computer science and mathematics, students in education, English, psychology, agriculture, and every other field can immediately see new work opportunities with experience in 'high performance computing.' This supercomputer opens the door for real innovation at Southeastern. With just a little training, the potential practical applications for students in various disciplines are nearly endless."
The SC2 collaborates with other universities in the region through multiple consortiums, including the Great Plains Network, as they all look to efficiently use and expand their supercomputers. Including Southeastern, many of the universities in the region received grants and equipment donations to build their supercomputers, with a portion coming from GPN.
The Great Plains Network (GPN) is a non-profit consortium aggregating networks through GigaPoP connections while advocating research on behalf of universities and community innovators across the Midwest and Great Plains who seek collaboration, cyberinfrastructure and support for big data and big ideas, at the speed of the modern Internet.